I'm mildly obsessed with Food Network's
Ace of Cakes
and love watching those amazingly talented cake artists make cakes into every shape imaginable. (Side note: How much pot do those people smoke? I'm not accusing them, but I mean... c'mon.) Anyway, I just love watching them make those crazy cakes, but not everyone is so talented at creating confectionery masterpieces.
I recently came across
CakeWrecks.com
, where the author find the most disgusting and horribly-crafted cakes around. They also encourage readers to submit their own "cake wrecks" to the site. Here are some of my recent favorites.
The colors on this cake are so unappetizing I can't look at it for more than a few seconds



Is she turning 1 or 7? The world may never know.

Placing orders over the phone can be tricky, especially if things are lost in translation...
This was supposed to read "Phillip... woo-hoo!"



A "blue house" for Joe.



and a "black high heel" for Cicely's 30th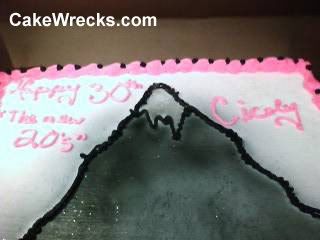 I love the Internet!
[thanks, WW]
Related Things:
---