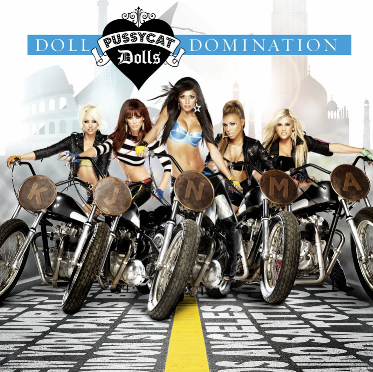 The Pussycat Dolls are back with their sophomore album,
Doll Domination
, and I feel compelled to share my thoughts. Now, if you're a little skeptical about the musical prowess of PCD, let me remind you that their debut album, also titled
PCD
, had five monster singles in the US, and eventually birthed seven singles around the world. Honestly, I do not own their complete first album, but I do have the seven singles and I will embarrassingly admit that they are all on heavy rotation on my play list.
With
Doll Domination
the girls ride in on monogrammed motorcycles to bring the same spunk and danceable beats of
PCD
... and that's about it. But hey- if it ain't broke, don't fix it! Their first single "When I Grow Up" was undoubtedly one of the biggest songs of Summer '08, but upon first listen one might not be able to pick out any other standout tracks on the disc. I've had the album for a little over a week and am just now starting to really feel the new songs. I will admit that some of the tracks seem to be album-fillers, but there are several that have been on repeat on my iPod for the last few days.
I recommend getting your paws on the tracks "Magic", "Whatcha Think About That?", "Love The Way You Love Me" and "Halo." One track that I instantly hated, but now can't stop listening to is "Bottle Pop" featured Snoop Dogg. Not since Kylie Minogue's "Can't Get You Outta My Head" have had I a string of simple, repetitive lyrics stuck in my head for such a long period of time. I smell a future single. Another surprisingly smooth jam is "Out of This Club" featuring R. Kelly. In a cute nod to Usher's "Love In This Club", the girls sweetly declare that they've partied enough and are ready for their man to take them home. Trust me, it's much more charming that I can write here. Lead Doll Nicole Scherzinger sneaks a few retooled tracks from her shelved solo album into the rotation, but you'd never know unless someone told you... they sound like any other PCD track.
If you splurge on the Deluxe Edition of
Doll Domination
you'll get a bonus disc, where each of the Dolls single a solo song. They're each like, actually kinda good. I especially enjoy Ashley Robert's (the blonde with the long hair) song called "Played". If you're not sold from reading this post you can check out
PCD's MySpace page
and preview each track, or head over to
The Music Inferno
and download them all (before they're taken down).
Have you heard
Doll Domination?
I'd love to know what you think!
Related Things:
---