I am highly-organized, neat and a little obsessive, so if you know me at all it's no shock to learn that I love

Post-it notes

. I have stickies up all the time at work and at home with little reminders to myself. I love being able to write down ideas and have them stare back at me until I execute them. Sometimes it's a "to do" list, sometimes little reminders, ideas for blog entries, words of inspiration, things I'm using "the Secret" for, etc.

As I type this I currently have 10 notes stuck up on the wall/window in front of me (granted, two of them say "flats are fug" and "way to be ugly") so I was very excited when we received a big box of new Post-it products at work! Check out this spread: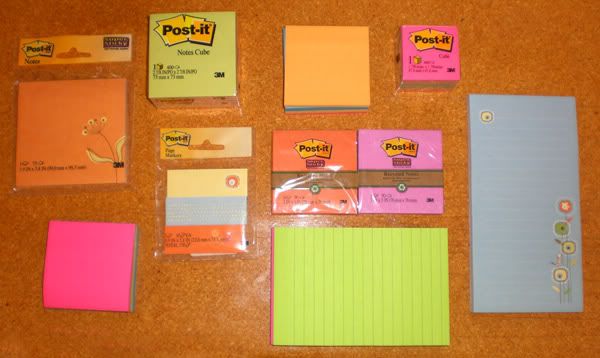 Various colors, shapes, sizes and even a magnetic memo pad!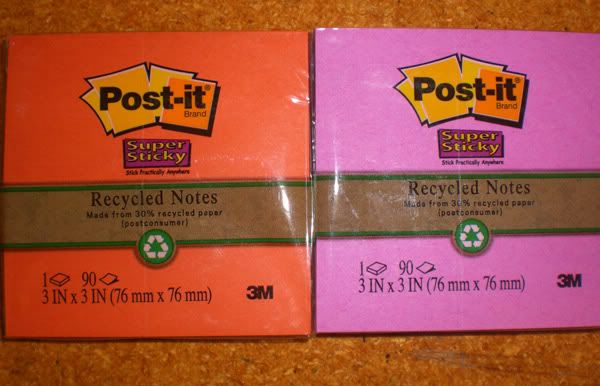 Recycled notes are orange, purple and "green" (get it?!)



I honestly think Post-its are such a great invention. Who woulda' thunk that pieces of paper with a sticky back would change the way hyper-organized, borderline-OCD people like me would live their lives? Not to mention that they also come in handy for pulling fun office pranks.

Besides Post-its, I also have a secret love for

Sharpie

permanent markers. Everything looks better when written in unchangeable, high-inducing ink.

Any secret obsessions you'd like to share?