Every Friday between Memorial Day and Labor Day I'm going to be featuring "guest bloggers" as a part of my "Summer Fridays" series. This week's entry comes from certified real estate expert and friend Endre Boksay who shares insider tips for finding the perfect apartment in New York City.

For those of us that live in New York, you know how painstakingly difficult, stressful, invasive and expensive finding an apartment to rent can be. The current economic climate has changed the rental market in New York dramatically over the last year or so. As a professional in the business, I thought I would share some insights into how things have changed and how to navigate finding an apartment in this climate.



Change 1: Inventory

- In 2008, the rental vacancy rate was 1.42%! Yes, only 1.42% of the total rental units were available at any given time. No wonder you had such a hard time finding a place before last fall! After the fall of Lehman Brothers last September, though, we saw an increase in vacancy rates as people lost their jobs, moved out of the city, etc. In November 2008, we saw the vacancy rate go above 2% for the first time since 2001.* This vacancy rate continued through the winter and spring – which is when you may have heard rental prices dropped significantly and renters were able to Negotiate their rents down for this first time in years. Along with increased vacancy rates also comes an increase in choices/selection. So – while over a year ago you may have found a few studios in the West Village for under $2,000 a month, there are now over a dozen at any given time.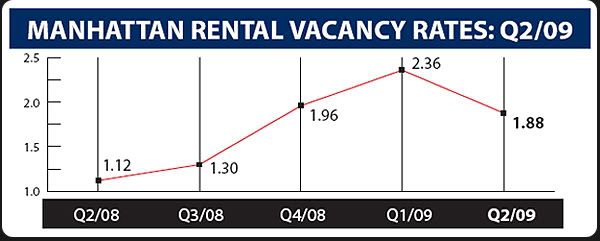 *Note that while the vacancy rate is still higher than in 2008, it Has gone back down to around 1.67% this summer.



Change 2: Rents

- As a result of this increase in inventory, rents have also come down. As you can see from the table below, rents have dropped an average of about 8.3-11.4% relative to last year's rents. What we have seen, however, especially given the typical summer moving rush, is that rents have fairly stabilized right now.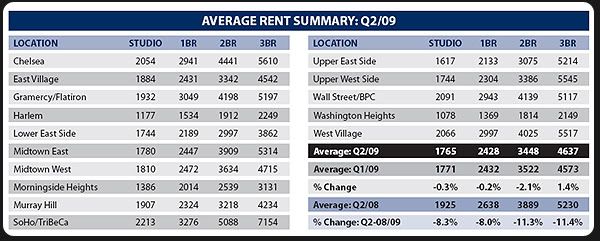 Change 3: Broker's fees

- One of the biggest expenses involved in renting an apartment in New York is the broker fee. Up until the current recession, it was completely normal for agents to charge 15% of a year's rent as the fee. This was the norm and the standard in the industry, especially amongst reputable firms. The only places that were "no fee" would be apartments rented directly by management companies and owners or listings that were in less desirable areas (namely the Financial District) – where they have always needed broker and tenant incentives to lure new tenants.

With the increase in inventory and the decrease in rental demand, however, owners and management companies are now picking up some of the fees all over the city – not just in FiDi or the far reaches of Hell's Kitchen (think high-rise rentals past 10th Ave). While still rare, some owners are paying part of the fees on listings in the West Village and SoHo! It should be noted that some of the best deals are still charging fees, though, because they are still that desirable and that much in demand – so do not rule out looking at these properties as they may be worth the fee over time.

So how about finding an apartment during these times? Obviously, as an agent, I will tell you that the best way is still to use a trusted real estate professional that knows the inventory and does the searching for you. Given the current climate, in which the owners and management companies are paying part of our fees, this is a better time than ever to tap into our services and save yourself a lot of hassle. However, for those of you determined to avoid us as all cost, here is a bit of insight into some of the other methods: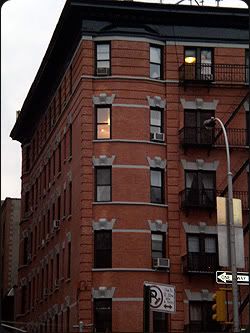 Craigslist:

Beware of Craigslist. I would say that about 75% of the ads on craigslist are fake. The majority of listings are listed by small companies and their agents posting teaser ads with false information and pictures. These are meant to get you to call and then they will do the whole bait-and-switch: "Oh – That property's been rented… but I have another one…" This is not to say that all ads are fake – but you can be sure that if it's listed by some no-name agency you've never heard of, it's a fake. The problem with looking on Craigslist is also that it gives renters false hope of places that look and sound a lot better than they are. My suggestion would be to search under "for rent by owner" if anything, as these do tend to be real listings by the very few owners who do not use agents to market their properties.



Management Companies:

Many management companies allow renters to go and rent directly from them. There are some large ones that do this and advertise online and in print such as

Related Rentals

,

Rockrose

and

Rose Associates

. For the most part, these tend to be high-end and fairly overpriced rentals. This is a good option for those that can afford these properties and avoid a fee. If you go this route of searching, the main issue is that you eliminate being able to find properties in buildings owned by small companies or an individual owner which are not big enough to advertise and have on-site leasing offices. For these properties it is still best to use a broker. There are some large management companies with a lot of listings, such as

Pan Am

and

BLDG

that also work exclusively with brokers, as well, in order to avoid the hassle of dealing with tenants directly.



Other websites:

NYtimes.com tends to list exclusive listings. Exclusive listings are when an certain agent is the only person that can show you an apartment. While another broker can show it to you, they still have to go through that agent. Therefore, these tend to carry the highest fees. Streeteasy.com is also a popular site. This is used by many management companies to list their rentals, so it's a good centralized search engine. Streeteasy is still very limited, however, and you will only be able to access a fraction of the current inventory out there.



Bottom line:

Finding an apartment in the city is still a very stressful, expensive and invasive process – but the current economic climate has made it somewhat less so. If you've been waiting to move into that perfect little place in the West Village or the UWS off of Central Park – now might be a good time to do so – while inventory is still up and prices down.


Very helpful! If you want to get more info about Endre Boksay or see his listings in NYC you can visit his broker profile page. And if you'd like to write about something just email me and you might be the next Summer Friday blogger!