Tonight at 10pm Oxygen welcomes its newest show

The Naughty Kitchen

to its roster with executive Chef

Blythe Beck

. I got to chat with Blythe yesterday at the Oxygen offices after getting a sneak peek at the first episode.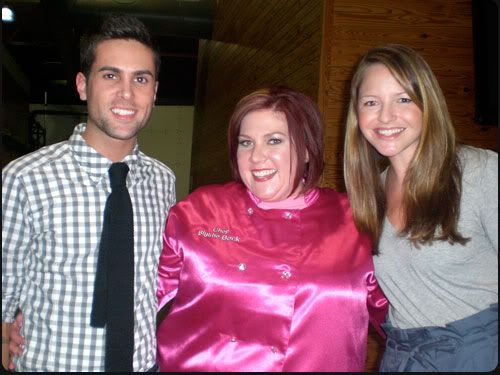 Pat, Chef Blythe Beck, co-worker Ali


Beck's reputation as the naughty chef is completely warranted, as she slathers her cuisine with butter, beer and other ingredients that would get nutritionists' panties in a twist. She's loud, crass and full of life and makes her presence known in a room. I mean, she gave me a

Naughty Kitchen

apron then told me she wanted to see me in it... only it. Naughty, indeed.

The funny thing is that the Texas native didn't always want to be in the restaurant business. In fact, Beck admits to going through college with a major in "Miller Lite" at Cincinnati's Xavier University as she tried (without success) to pick a career path. It wasn't until she took a job at a local restaurant to make some extra beer money that Blythe realized her true calling, saying she "didn't pick the career, the career picked" her. She says she still gets flack from other chefs from time to time, but she's doing what she loves and having while while she does it.

Now the young chef is the Executive Chef of Dallas's Central 214 restaurant where she runs the loud, upbeat and sometimes drama-filled show. Check out an extended clip of the show, premiering tonight at 10pm on Oxygen.




Be prepared to use the term "drink about it" in your day-to-day life.

Are you going to watch

The Naughty Kitchen

?