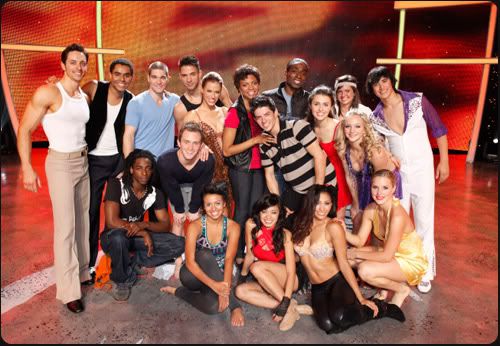 So You Think You Can Dance

is back into full swing for Season 6. I won't be vlogging this season (too much going on at once) but will hopefully be able to provide the performance info each week... and maybe a little commentary, too.

A few thoughs: I love the season's new opening credits. I actually like the new set. I think there's so much they can do with the lights and the video screen. I'm sad that Billy Bell had to quit due to "illness". I think the microphones on the tappers' shoes are extremely annoying and almost put them at a disadvantage.

Here are the details on all of the night's routines, in the order they appeared:


DANCERS: Channing and Phillip
STYLE: Jive
CHOREOGRAPHER: Jason Gilkison
SONG: "Rockin' Robin" by The Jackson 5

DANCERS: Ashleigh and Jakob
STYLE: Broadway
CHOREOGRAPHER: Tyce Diorio
SONG: "Hit Me With a Hot Note" from

Sophisticated Ladies



DANCERS: Ariana and Peter
STYLE: Hip Hop
CHOREOGRAPHER: Tabitha and Napoleon
SONG: "Black and Gold" by Sam Sparro

DANCERS: Russel and Noelle (who was injured during rehearsal)
STYLE: Foxtrot
CHOREOGRAPHER: Tony Meredith and Melanie Lapatin
SONG: "Vagabond Shoes" by Vic Damone

DANCERS: Bianca and Victor
STYLE: Contemporary
CHOREOGRAPHER: Travis Wall
SONG: "Wasted Time" by Me'Shell Ndegeocello

DANCERS: Karen and Kevin
STYLE: Cha cha
CHOREOGRAPHER: Tony Meredith and Melanie Lapatin
SONG: "Push It" by the cast of

Glee



DANCERS: Ryan and Ellenore
STYLE: Jazz
CHOREOGRAPHER: Sonya Tayeh
SONG: "Arcadia" by Apparat

DANCERS: Pauline and Brandon
STYLE: Smooth Waltz
CHOREOGRAPHER: Jason Gilkison
SONG: "You Light Up My Life" by Whitney Houston

DANCERS: Kathryn and Legacy
STYLE: Hip Hop
CHOREOGRAPHER: Dave Scott
SONG: "On & On" by Missy Elliott

DANCERS: Mollee and Nathan
STYLE: Disco
CHOREOGRAPHER: Dorianna Sanchez
SONG: "Turn the Beat Around" by Gloria Estefan


Because of the World Series there was no voting for elimination tonight. The judges asked Russell, Brandon, Ariana and Pauline to dance for their lives, then decided to send Brandon and Ariana home.

What do you think of the Season so far? Which routine what your favorite?