Time for some more

So You Think You Can Dance

! Because of the World Series there will be no elimination show this week and the judges cut two dancers at the end of the show. [Eliminated dancers named at the end of the post.]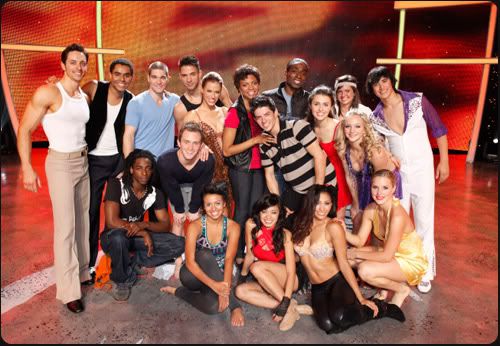 The top 18 performed tonight and here
are the details on all of the night's routines, in the order they appeared:


DANCERS: Noelle and Russell
STYLE: Hip Hop
CHOREOGRAPHER: Jamal Sims
SONG: "Move Shake Drop Remix" by DJ Laz, Flo Rida & Casely

DANCERS: Ashleigh and Jakob
STYLE: Viennese Waltz
CHOREOGRAPHER: Tony Meredith and Melanie Lapatin
SONG: "At Last" by Etta James

DANCERS: Bianca and Victor
STYLE: Broadway
CHOREOGRAPHER: Tyce Diorio
SONG: "Maybe God Is Trying to Tell You Something" from

The Color Purple



DANCERS: Mollee and Nathan
STYLE: Bollywood
CHOREOGRAPHER: Nakul Dev Mahajan
SONG: "Azeem O Shaan Shahenshah" from

Jodhaa Akbar



DANCERS: Channing and Phillip
STYLE: Samba
CHOREOGRAPHER: Tony Meredith and Melanie Lapatin
SONG: "Maracatu Funk" by the Samba Squad

DANCERS: Karen and Kevin
STYLE: Hip Hop
CHOREOGRAPHER: Tabitha and Napoleon
SONG: "Ice Cream Paint Job" by Dorrough

DANCERS: Kathryn and Legacy
STYLE: Contemporary
CHOREOGRAPHER: Stacey Tookey
SONG: "2 Steps Away" by Patti Labelle

DANCERS: Pauline and Peter
STYLE: Jazz
CHOREOGRAPHER: Wade Robson
SONG: "Little Green Bag" by George Baker Selection

DANCERS: Ellenore and Ryan
STYLE: Argentine Tango
CHOREOGRAPHER: Miram and Leonardo
SONG: "Violentango" by Astor Piazzolla


The four dancers that were asked to dance for their life were Noelle, Victor, Bianca and Phillip. Bianca and Phillip were eliminated.

Do you think the right dancers were sent home? Which routine what your favorite?