As the year winds down and the number of Ru-Mixes piles up Ru has put together a huge compilation of his favorite jams from '09. Check it out!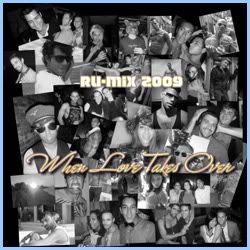 When Love Takes Over (2009's Greatest Hits)

This is a mix of my favorite songs of the year represented by alternate remixes to those on Ru-Mixes past. Some of these new remixes include songs from newcomers like La Roux, Calvin Harris, Little Boots, Frankmusik, the voices of Lady Gaga and Beyonce, and even some tunes that put new feathers in Lady M and Nippy's respective caps! Of course, nothing sums up my year better than the Grammy-nominated title track, "When Love Takes Over."
Click here to download 32 separate tracks
Click here to download as one continuous mix
Hope you all have enjoyed the addition of
The Ru-Mixes
to
ABlogAboutThings.com
.
Have you liked all of The Ru-Mixes so far? Join the Facebook group!