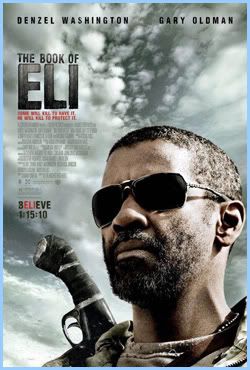 I recently went to a screening of the new Warner Bros.

The Book of Eli

. It wasn't a film that would typically be on my radar of ones to watch, but I was excited to preview it because of its enigma and its action scenes.

The film, starring

Denzel Washington

,

Gary Oldman

and

Mila Kunis

, is about a post-apocalyptic world where the remaining humans struggle to survive and rebuild 31 years after "the flash." Those lucky enough to have survived the world's end hold knowledge of "the world before," while those born after the flash lack the skills of reading and writing since most of the world's books were lost.

In the film the mysterious Eli (Washington) slowly and steadily makes his way West, which he calls his duty. Along t he way he makes a stop in a small makeshift town run by Carnegie (Oldman) who spends his time sending out minions in search of books. Not just any books though; He wants a copy of the Bible. Why? Because he believes that the person who holds the power of the Bible is able to control the hearts and minds of the people. Conveniently enough, Eli holds the world's last Bible in his possession and is not to keen on giving it up. I don't want to give anything away, but the story was excellent and the twist in the film was both satisfying and unexpected.

Beyond the actual story line, I really enjoyed the director's use of sound and cinematography. The film's use of dark and light, plus some great camera angles and motion really helped create the feel of the dusty post-apocalyptic earth. And the surround sound was really fun -- It really put me into the action scenes.

Basically

The Book of Eli

is like a cross between

Mad Max

,

The Matrix

and

Kill Bill

, with a serious dose of religion and spirituality thrown in. It wasn't something I'd normally check out, but I'd definitely recommend it to someone looking for a different type of action/drama.