In the fifth season (yes, fifth!)

Tori Spelling

and

Dean McDermott

are taking their reality show

Tori & Dean: Home Sweet Hollywood

across the country.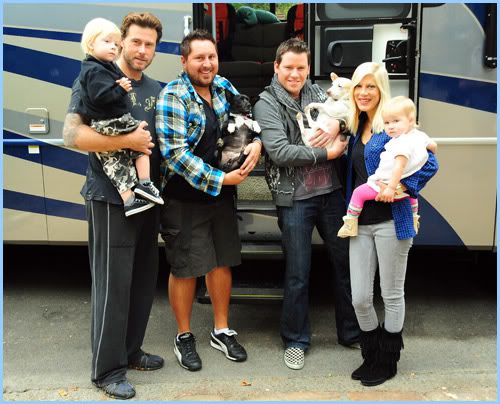 Photo courtesy of Oxygen


This season the duo load up their family for an RV trip from Hollywood to Atlanta to visit their long-time-now-former nanny, Patsy. They load up the RV with their kids Liam and Stella and the guncles (gay uncles *groan*) and hit the road. Sounds like every family's worst nightmare, right? I smell great television!

In tonight's premiere we see the family set off on the trip and make their first set of rest stops along the way. I particularly enjoyed Tori's attempt at purchasing on ostrich from a very strange woman on the side of the highway. They also enter a steak eating contest where they are challenged to eat a monstrous piece of meat they may literally weigh as much as Tori herself.

Tori and Dean may be the furthest thing from the average American family, but there is something strangely normal about them. Tori's a regular, worrying mom; Dean's a loving but sometimes disconnected Dad and the kids are adorable and funny. I have to say that this is one celeb-based reality show that I actually find entertaining and endearing at the same time.



Tori & Dean: Home Sweet Hollywood

premieres tonight at 10pm on Oxygen. Will you be watching?