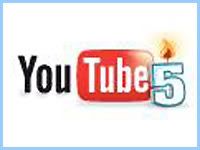 In honor of YouTube's fifth birthday many media outlets are compiling lists of the best/favorite viral web clips out there. Even YouTube itself is having some major names like Conan O'Brien share their favorite videos.

I've been uploading clips and making YouTube vlogs since December 2006 so I figured I'd get in on the action and share my six favorite clips to date.



Kittens Inspired by Kittens


Chad After Dentist


When a 3-Year-Old Is Asked About Monsters


The Original Call for Help / TechTV Blooper


Crazy Talking Cat


TWO-FOR: "I'm Passing Out" & Keyboard Cat




And if you want to see the favorite videos that I've created you can watch them here.

What's your favorite viral video? Leave the link the comments!