As I mentioned in this week's recap, next week (May 12) is the two-hour finale of

America's Next Top Model

. The finale will actually be two episodes; the first will feature the four remaining models -- Angelea, Alexandra, Krista and Raina -- battling it out for two spots in the final runway show. The second episode will be the CoverGirl shoot and runway show.

At this point we don't know who will be in the final two spots, but it looks like Entertainment Weekly accidentally gave the answer away in this week's magazine! Check out the blurb for Wednesday's episode: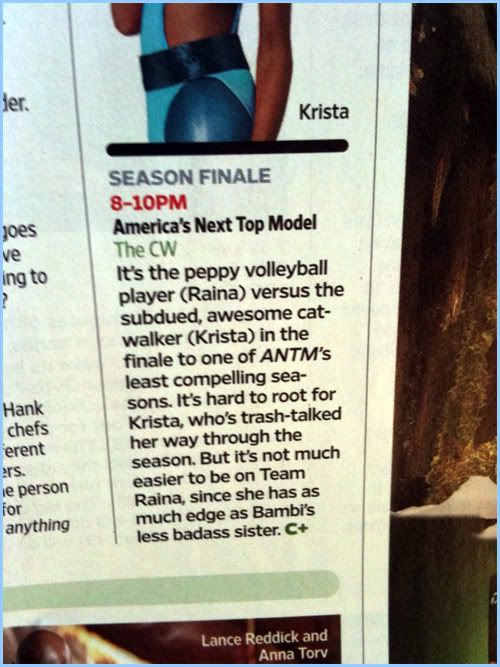 It reads:

"It's the preppy volleyball player (Raina) versus the subdued, awesome cat-walker (Krista) in the finale to one of ANTM's least-compelling seasons. It's hard not to root for Krista, who trash-talked her way through the season. But it's not much easier to be on Team Raina, since she has about as much edge as Bambi's less badass sister."
Interesting! So, maybe

EW

didn't give away the winner, but looks my guess that Angelea and Alexandra will get cut before the runway show was correct. Krista is edgy, funky and a great walker, but she's not very commercial at all. Raina is extremely commercial and has an amazing face, but can't walk the runway like Krista can.

Now that we know for sure who will be in the finale, who do you think will be named America's Next Top Model?