Every Friday between Memorial Day and Labor Day I'm going to be featuring guest bloggers as a part of my "Summer Fridays" series. This week's entry comes from comedienne Kara Klenk, who analyzes America's hottest new drinking game.

Summer is barely here, and mine has already been chock-full of weddings (read: open bar), dining
al fresco
(read: boozing), and trying to soak up as much sunshiny park time as possible
(read: flasks)
. Hold off on the intervention, I'm just stating the simple fact that summer encourages more drinking than the other seasons.

For those of you who'd like to add a competitive edge to your summer nights (or days, go ahead, I'm not judging) there is a new phenomenon that has burst through the frat house doors and is infecting the mainstream like Beiber Fever. It's call "Icing", and if you haven't heard of it, let me 'splain it to you. Basically, one person "ices" another when he/she finds a creative way to present another person with a Smirnoff Ice. The rules are below:



The game was popularized by the web site, which has sadly been shut down, but previously cataloged user-submitted evidence of great "ices" in history. It's the fun of devising a plan to catch someone off guard with a Smirnoff Ice Raspberry Burst that makes this game kind of hilarious. Before the site went down I saw a couple photos of someone getting iced at his wedding and another of someone's toiletry drawer with a Smirnoff Ice resting inside next to an inhaler with a note that read, "Puff on this, bitch! You just got iced!"

At first it was widely thought that Smirnoff had a hand in this viral drinking game as a way to market their product, but now it seems that they are actually the ones behind getting the shutdown of the site. Smirnoff stated:

"Diageo [Smirnoff's parent company] has taken measures to stop this misuse of its Smirnoff Ice brand and marks, and to make it clear that 'icing' does not comply with our marketing code, and was not created or promoted by Diageo, Smirnoff Ice, or anyone associated with Diageo."
Smooth move, Smirnoff. First of all, this was probably the first time ever that straight men (I imagine that's an important demo in the hooch slinging biz) have purchased your product and you're killing it? Why? Because it doesn't coincide with your "our ethnically diverse group of beautiful friends had this crazy night drinking Smirnoff Ices and making a Slip 'n Slides out of garbage bags" marketing campaign? Yeah, your idea is way better.

Secondly, it's not a keg stand, power hour, or some insane college hazing ritual. It's giving someone the malt sludge you sell and saying, "Drink this, it's a game." An "Icee" can certainly refuse and I also don't get the impression that people are icing each other 19 times in a night, which I am assuming is the number of SI's it takes to even get a buzz going.

I was "iced" last weekend and as this photo amply illustrates, it was gross.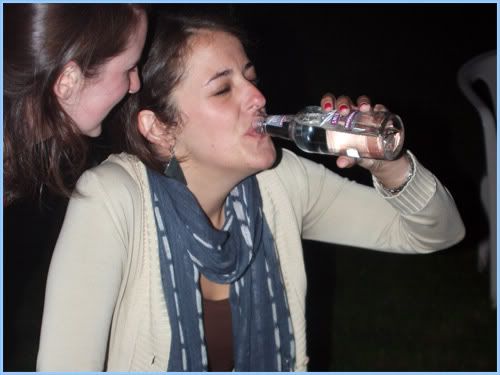 Kara Klenk getting iced





I took a knee and gulped down that sugary poison, taking several breathing breaks, and when it was over I was laughing. It was funny. I'd been had. And my first thought was to go out and buy a six-er of Smirnoff Ice for the next night so I could get my revenge. And that was the first time in... well, ever... I had considered purchasing this product. Sorry Smirnoff, breaking into a warehouse for an SI blast looks super sexy in your ads but it never hooked me.

So Smirnoff, it appears that you are that lame RA who reported us to the Dean of Student Life and forced us to do 10 hours of community service. But if any of you are looking for a way to add some innocent cunning and trickery to your social life, get to "icing!"


Kara Klenk is an actress, comedienne and improviser and you can check out more from her on her web site. You can read last year's Summer Friday entry from Kara here. You can always watch her stand up set here. Plus, you can
click here to read all of the Summer Friday entries.