I'm a little obsessed with finding cool apps for my iPhone lately, especially ones that do more than just make your face fat/old/Asian, so when someone recommended restaurant discount app Scoutmob I was excited to check it out.



Firstly, you should know that Scoutmob is actually a Web site, so you don't really need an iPhone to take advantage of its deals. You just go to the site and choose your city to get a heads up on huge discounts on restaurants in your 'hood.

Here's how the app works... Once you've chosen your city Scoutmob will pull up the deals. You can sort by newest, expiring or nearby -- which uses your phone's GPS -- to find the deals, most of which are 50% off or more. I know it sounds too good to be true, but keep reading!



Once you find the restaurant of your liking you just click the name to check out the deal. Scoutmob will only let you use deals when you are actually in the chosen location (or nearby -- thanks, GPS) and you have up to three hours to cash in. If you're in place you just click "use the deal" to pull up the coupon.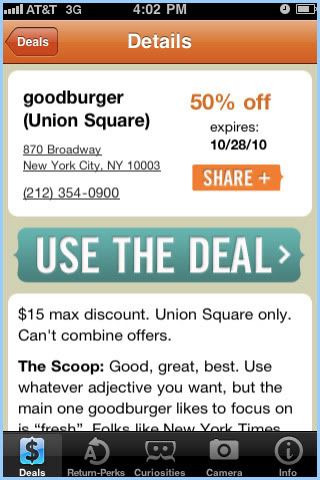 A new screen will pop up, you show it to the waiter or cashier when you're ready to pay and boom! Huge savings.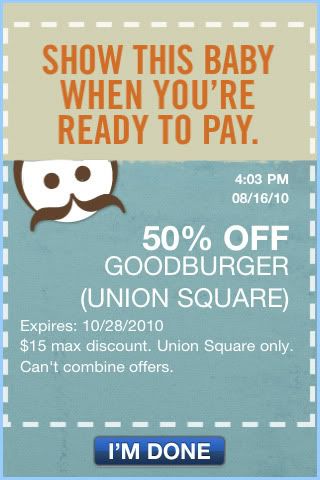 I used a Scoutmob discount at Phillip Marie in the West Village of NYC and it was so easy. I literally just showed the waiter my phone and cut my bill in half, saving over $20. It seems like there must be a hook somewhere, but there's not! Scoutmob searches for the deals and then you get 'em. Easy as that.



You can download the Scoutmob iPhone app here.