By Billy Nastyn, Contributing Writer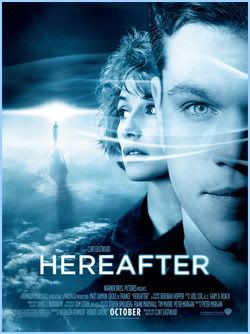 "What do you think happens when we die?" No one really knows the answer, but with a title like

Hereafter

and

Matt Damon

as the leading man, you would assume that you're about to get some intense cinematic insight. The question really is how (and will) this movie get us there with or without some new "I see dead people" twist? Although the trailer and advertisements tout Damon as the film's star, the storyline is actually told through three separate and eventually intertwining story lines.



Hereafter

stars Damon as George, a gifted/cursed individual with the ability to tap into the afterlife. Surprisingly, he hardly appears during the first hour of the film, besides the introduction to his reclusive life in San Francisco. George's mission is to find normalcy since becoming overwhelmed with requests to help people talk to their deceased loved ones. His dilemma arrives in the form of a girl (

Bryce Dallas Howard

) in his late night cooking class and has to face his life's eternal conflict head on.

Marie (

Cécile de France

) is a French journalist choosing a souvenir from a street market in Indonesia and is swept away by an absolutely terrifying tsunami. If this movie succeeds at one thing, it's consuming you in a near-death experience. You are controlled by that wave and you can feel the danger of every object capable of crushing you. Her visions of the afterlife haunt her upon her return to Paris where she is given leave from her job to cope.

Off in London, we meet synced up twin brothers (

George McLaren

and

Frankie McLaren

) covering up for their mess of an addict mother. Their family dynamic may be dysfunctional, but within their introduction you understand the strength that holds them together. When younger brother, Marcus, tragically loses the person closest to him he can help but want to search for answers about the afterlife.

Right there we have three very distinct stories set off to eventually intersect in one big "A-ha!" moment. So, how does a man resisting the use of his talent, a woman who wants to know more about what she experienced and a boy who wants closure end up meeting? At a book fair. Not just any book fair, but one that appears way too late in the movie. Even George's love for Dickens novels (an author haunted by his own ghosts) couldn't add that extra needed depth. These characters don't really have anything drawing them together, and even when they do all meet it falls short of much happening at all. It's one of those moments where you wonder if they needed to find each other at all.

Each character had a strong enough individual story that could have been resolved in its own unique way.

That

could have been the great twist to this movie; they never actually meet. Instead of having three decent separate resolutions, they brought all three together to form one confusing and weak conclusion.

Speaking of weak, it's worth mentioning the strange music choices in this film. Director

Clint Eastwood

is known for being closely involved in the creation of his film scores and composed two of the main musical themes that run throughout some of

Hereafter

's most critical scenes. Unfortunately, it wasn't the best time for him to step in. It was very difficult to take scenes seriously when hearing overly dramatic classic French love themes in a modern film about death. Maybe they should have stuck with the trailer's perfectly fitting soundtrack to keep the film moving.



Hereafter

is selling all of its best scenes as a familiar action/drama route to cater to an audience that probably wouldn't know where to fit it. Viewers are presented with a film that makes all the right moves, yet falls short of pulling them all together. Maybe, like death, the film was meant to be not understood?

Check out the

Hereafter

trailer here:






Hereafter

opens in theaters on Friday October 15.