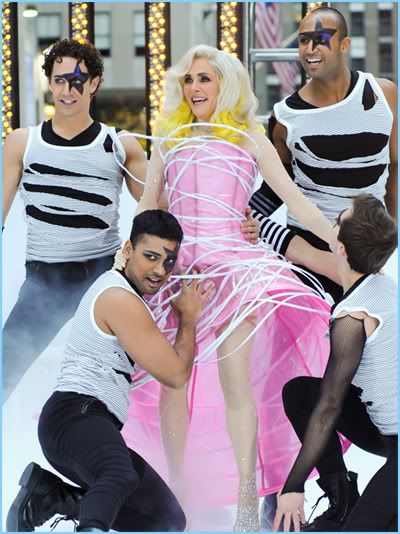 Ali Goldstein/NBC
Every year the hosts of the Today Show go overboard (in a good way!) with their Halloween costumes. They've dressed up as everyone from
The Munsters
, to famous singers, to the characters from
Star Wars
.
This year the gang had a less unified theme, but all dressed up as very recognizable faces like Justin Bieber, Amelia Earhart, and most notably Lady Gaga as
interpreted
by Meredith Vieira. Not only did the hosts get involved, but the show also had cameos by Tina Fey and Will Farrell, who were there in costume to promote their new film Megamind. Check it out!




Today's Halloween show always come through with the execution of a middle school play, but I think that's really part of the charm of it. The costumes were cool, and even if her dancing wasn't the best I think Meredith looked like a fantastic Lady Gaga. Too bad she didn't go big and do the meat dress.
Want to see how they pulled off this year's show? Check out this behind the scenes video.




And just for shiggles please enjoy this video of when I was on the Today Show a few years ago modeling "last minute" costumes.