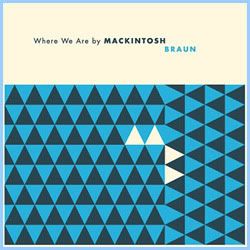 You may have never heard of Macktintosh Braun -- a Portland, Oregon-originating act -- but they should definitely be on your radar from now on. The duo consists of Ian Mackintosh and Ben Braun whose music is infused with soothing vocals and flowing beats.

Their debut album Where We Are was just released this fall and is getting a lot of play around the Web and in my ears. The name may not be familiar, but the songs may be. A few of the tunes were recently featured in several episodes of the ABC television show Grey's Anatomy.

Mackintosh Braun lands into an interesting category of musicality; falling in between pop, electronic and folk. They use synthesized beats and melodies with acoustic guitars to create amazingly relaxing tunes. Think of them like a mash up of Depeche Mode and Ocean Lab with some Frou Frou thrown in the mix, too.

I've had the album for a few weeks and it's been on heavy rotation since I got my hands on it. It's one of those albums that's perfect for listening to during a relaxing morning sipping on coffee, or for winding down at night with the lights dimmed low. And -- not bragging too much -- Mackintosh's tunes were especially enjoyable while laying on the sandy Caribbean beaches while I was on vacation. If you're looking for some new music beyond the over-saturated dance pop genre out there then get Where We Are in your queue immediately.

You can visit Mackintosh Braun's official site to hear tracks from

Where We Are

and get more news and info about the band. Plus watch the video for their song "Could It Be" which was featured on Grey's Anatomy.