By Billy Nastyn, Contributing Writer

In the middle of a
snow filled winter
that has touched 49 out of 50 states, it's common to find folks staying indoors searching for new ways to keep warm. For others it's a call from nature to head outdoors with skis and snowboards to the nearest ski resort. In between those two types of people is a little something Austrians like to call "germknödel".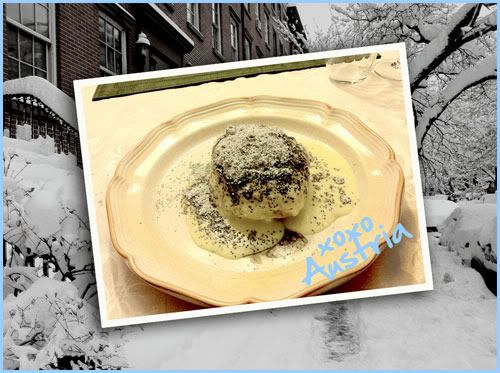 Far from the fancy dining at Sundance, these perfectly plum-filled warm

dumplings are the thing to eat between hitting the slopes up in the Alps. Sometimes you just have to admit when you're the underdog and these Austrians really have us beaten, blended, boiled and covered in a delicious vanilla sauce.

Germknödel should have found it's way into all chilly climates a long time ago, so get in your kitchen and help spread the word and the recipe for this perfect winter dessert! Here's how you make it:

Ingredients
Dough:

4 cups flour
1/3 cup sugar
2 tbsp yeast
1 tsp salt
1/3 cup softened butter
1 cup lukewarm milk
1 egg
1 egg yolk
1 tbsp vanilla extract
Filling:
1 ¼ cups plum jam
1 tbsp rum (optional)
Vanilla Sauce:
1 cup milk
2 egg yolks
8 tbsp sugar
1 tbsp vanilla extract
Powdered Topping:
¾ cup ground poppy seeds
powdered sugar
Instructions
1. Begin dough by combining flour, sugar, salt, eggs and sugar in first bowl.

2. Separately, mix the yeast and lukewarm milk until all yeast is dissolved.



3. Pour yeast mixture into first bowl and knead everything together with butter. Add extra flour to dough while kneading if too sticky. Cover the dough with a towel and leave to rise for an hour.

4. When the dough has doubled in size, remove and place on a board.



5. Divide into 8 equal pieces and pat each until flat, round and 4 inches in diameter.

6. Scoop one tablespoon of plum filling into the center of each dough circle.

7. Pull dough edges up and around the filling to completely encase the jam in the center. Make sure all seams are completely closed and cover again for 10 minutes.

8. Boil water with some salt in a large pot and add dumplings leaving room for them to rise. This works best in batches of 2-3 at a time depending on the size of your pot. Simmer for 20 minutes with the lid on. This must remained covered to ensure dumplings rise properly.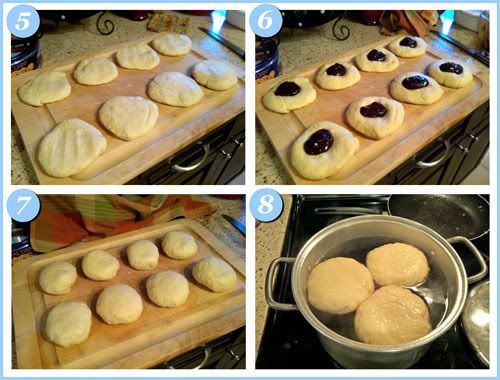 9. While dumplings are boiling, start the vanilla sauce by bringing milk to a simmer in a small saucepan over medium heat. In a medium bowl, whisk egg yolks and sugar together until a ribbon forms when the whisk is lifted from the mixture.

10. Whisk constantly while slowly pouring the hot milk into the yolk-sugar mixture.

11. Pour mixture back into saucepan and stir constantly with a wooden spoon over low heat. When the mixture has thickened, remove from heat and stir in vanilla.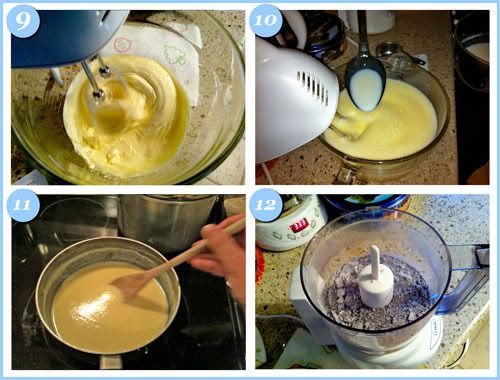 Topping:
12. Prepare the powdered topping by grinding poppyseeds in a blender, coffee grinder, or by using a mortar and pestle. Mix in with desired amount of powdered sugar.

When each batch is ready, take the germknödel out of the water and place them on dishes. First ladle on the vanilla sauce and top it with a nice spoonful of the poppyseed sugar topping.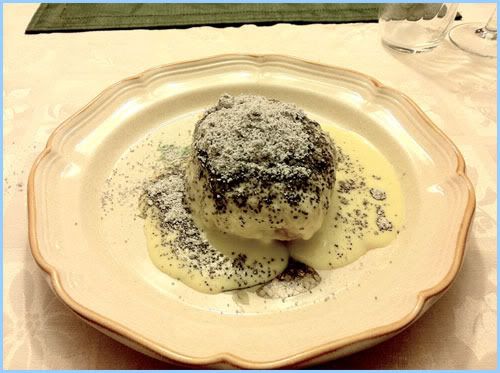 Enjoy in whatever snowy location you find yourself!