Things have been fairly quite on the Tyra Banks front lately as we anxiously await the premiere of Cycle 16 of America's Next Top Model. But today Tyra tweeted about a new fashion and beauty Web site she's launching called TypeF.com.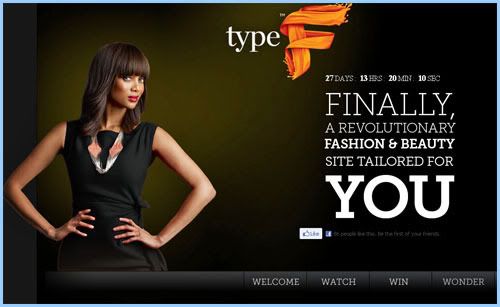 The new site won't be fully available until March 15, but a beta version is now up for preview. As if her current site Tyra.com wasn't enough, TypeF.com is being described as a site for beauty of every size, shade and style.

Tyra says on her welcome page says, "YOU are beauty and typeF.com is the beginning of a movement that starts with and for YOU. It's a destination that continues my mission to expand the definition of beauty. My goal is for typeF to be THE place where you will find your ultimate style confidence created for you, with you and by others like you." Sounds very Tyra, no?

Check out this clip Tyra explaining to us what TypeF.com is all about.




If you're not enticed enough, you can sign up now for a chance to win some cool prizes like some concert cash or a shopping spree in New York City. Not too shabby! TypeF.com full launches on March 15 and the new Cycle of America's Next Top Model premieres on February 23 at 8pm on The CW. Click here to meet the models of Cycle 16.

What do you think of Tyra Banks launching a new fashion and beauty site? Leave a comment!