The second section of New York City's High Line Park opened this week, and since I only live a block away I was very excited to explore its new features. The new section is beautifully planned with rising and falling walkways that give unique views of 10th avenue and its buildings (and inside a few people's homes!), but what was the most surprising was what lied at the end.

At 30th street there is a pop-up biergarten with food trucks and drinks, but my attention quickly shifted from the sounds and smells of snacking when I saw these huge striped balloons in front of me. After taking some time to bop and spin these giant inflatables I stopped for a minute to watch everyone else have fun. Check it out:





The art exhibit is called Rainbow City and is presented by FriendsWithYou.com and AOL and is a ton of fun! If you're in NYC you had best go explore them soon, because Rainbow City is only on display until July 5.

Here's a shot of the who installation from the High Line Park.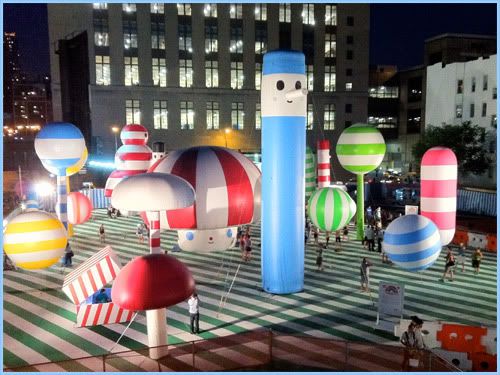 This video and photo were taken around 9:00pm EST on Wednesday June 8, 2011.