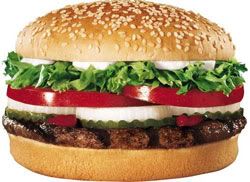 Burger King

has been doing some really interesting promotion, marketing and reinvention with their signature sandwich over the past few years. First they tricked loyal customers by saying they have discontinued the Whopper, then they scoured the planet looking for people who have never seen a hamburger, let alone a Whopper.

Now taking the creative ideas into the consumer world, Burger King has opened their very first "

Whopper ba

r" in Orlando, FL where customers can create their own Whopper varieties. Here's a quote from the Miami Herald:


"

The menu features a choice of a Whopper, Double Whopper and Steakhouse XT with toppings like smoked bacon, pepperjack cheese, guacamole, sautéed mushrooms and crispy onions. Some toppings are free and others cost 50 cents each.

For the non-burger lover there is a Tendercrisp chicken sandwich. Plus, there are a selection of favorites like the Bourbon Whopper, Angry Whopper and Three-Cheese Steakhouse XT. There's also French fries and milkshakes, plus future locations may include those cold brews."

The concept is apparently a money-saving venture that allows BK to open up shop in places that are too small for a full-blown restaurant, allowing them to serve patrons at 30% less cash than even the smallest eat-in location. Quite an interesting new business model. Burger King's president of global marketing Russ Klein says the company plans to open 300 to 500 Whopper Bars in the next three to five years.

Oh, and apparently the people behind the counter will be called Whopperistas. Cute.



Related Things: