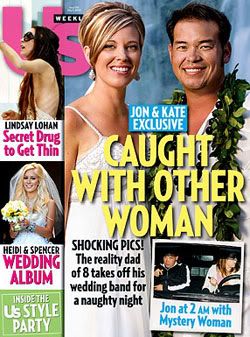 This week's cover of

Us Weekly

alludes to more trouble in Central, PA over the fidelity of

Jon Gosselin

, star of TLC's

Jon & Kate Plus 8

. The story alleges that Jon was recently spotted leaving a club around 2am with an "mystery woman" while wife

Kate

was across the country promoting her new book

Eight Little Faces

. Here's a piece of the full story:


Jon Gosselin arrived at the club at 11:20 p.m. and by 2 a.m. "could barely walk" as he exited the less-public back entrance of Legends Lounge -- near the family's $1.3-million home in Wernersville, Pennsylvania -- on April 18, a fellow partier tells Us Weekly.





The dad of 8 -- kids are twins Madelyn and Cara, 8, and 5-year-old sextuplets, Aaden, Joel, Collin, Hannah, Leah and Alexis -- was overheard yelling, "Hey, babe! Babe! Give me my jacket!" before climbing into his Nissan Nismo. (She complied.) As cameras began snapping, he panicked, urging his female friend to "get in the car!" before speeding off hastily -- without even turning on the headlights.





While TLC had no comment on the story or the couple's marital status, Jon sent an emailed statement to Us. "I went to Legends to speak to the owner. A friend of mine wanted to check out my car, so I let her drive it to her car," he says. "Yes, I have female friends -- but that is all she is. I'm not going to end my friendships just because I'm on TV."

This latest gossip comes after Jon was accused of fraternizing with college girls at Juniata College in Pennsylvania. It's a double-edged sword. On one hand I think people need to get off the Gosselin's backs and leave 'em alone, but then again they

did

decide to put themselves in front of the camera and there is a certain amount of scrutiny that comes with it.

I hope the rumors aren't true cos I love

Jon & Kate Plus 8

but the evidence keeps piling up!



Related Things: