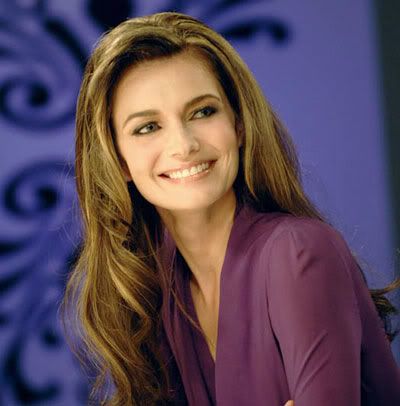 Carolyn will be so happy! News broke today that former model and judge on

America's Next Top Model

has been fired from the show.

Here's the scoop from TopModelGossip.com:

Paulina Porizkova will be appearing on

The Late, Late Show with Craig Ferguson

tonight on CBS and she will reveal some really big news - that she was fired from America's Next Top Model.

"Listen, do you know why I am in Los Angeles… because I am looking for a job," Paulina tells Craig when she stops by. "Because I was fired by America's Next Top Model on my birthday."

Paulina says the reason she was fired was pretty vague. "The reason I was told I was fired was because, it seemed that America's Next Top Model has gotten too fat and they needed to cut some fat and the fat was me," she said.

She also mentions that the producers told her she has an ego problem, which contributed to her firing.

"So I figured it was either that or my gigantic huge ego. Which I wasn't aware of until I was told by the producers that I have an ego problem," she said.

Wonder who—if anyone
—producers will get to replace Paulina on the show... any suggestions? I hope it is someone who is actually a more current model who is working.


Related Things: