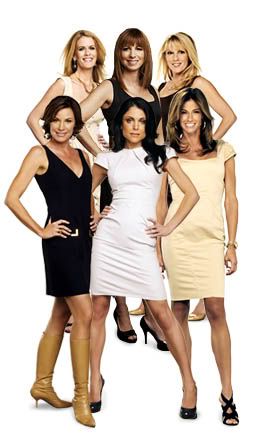 Let the craziness begin! Tonight was night one of the two-part reunion special of the

Real Housewives of New York

. Apparently there was so much conflict and content in the reunion that it took them seven hours to film the whole thing. Before the first commercial break we learned about

Jill Zarin

's breast reduction,

Bethenny Frankel

's breast lift, Countess

Luann de Lesepps

's divorce (yes, she still gets to be a Countess) and

Kelly Killoren Bensimon

's alleged beat down of her former boyfriend.

Ramona Singer

's crazy eyes weren't addressed until act two.

Big mouth Ramona (

Andy Cohen

's words, not mine) got into it with Jill after she accused Ramona of spending less than the stated year and half on her skincare line. Then it was Ramona versus The Countess in round two of the "you married a man twice your age" conversation, followed by 10 minutes of overlapping yacking between the two.

The women got into a discussion on

Alex McCord

's upcoming parenting book and how she could possibly be qualified to write a book on parenting with her unruly, bilingual offspring stabbing hamburgers all over Manhattan and its outer boroughs. Luckily for everyone, it's not going to be a "how-to" book on parenting, but more of a collection of all of the "wacky things that happen on the road to adolescence." Sounds slightly erotic. Alex also blasted Bethenny for all of her amazing one liners she says about the other women on the show. Sense of humor FAIL, Alex.

At the end of the hour an all out screaming match broke out between Ramona, Jill and Bethenny over... wait for it... BLOGS!!! If I never hear Ramona say the word "blog" again I will be a happy camper.

Here are some bonus takeaways from part one of the reunion special:

Jill Zarin's spending either broke or fixed the US economy. Results inconclusive.
The Countess is aware that no one gives a shit about her title, but thinks it's fun anyway.
All of America seems to be sick of the Housewives hocking their products on the show.

Ramona eats dinner at 8pm and will not do so in Brooklyn. Ever.
Kelly is not a "girl's girl" and is cray cray. I hope she comes back next season!


Here's looking forward to night number two!



Related Things: