Every Friday between Memorial Day and Labor Day I'm going to be featuring "guest bloggers" as a part of my "Summer Fridays" series. This week's post comes from Sean Martin, TV PR Guru, who gives us a roundup of the 2009 Primetime Emmy Nominations.

The 2009 Emmy nominations came out yesterday. Since television is my #1 past time – it is mentioned in my Facebook profile a good four times, at least – I was of course very excited. For the nominations to come out. Not necessarily for the nominations themselves.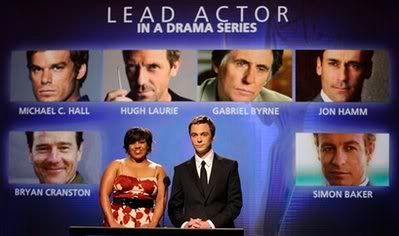 Being a huge TV fan, I'm extremely opinionated and usually disagree with some of the nominations – which of course happened. But I'm really thrilled about some nominations, too. Here are my initial thoughts:



The POSITIVE thoughts:



Supporting actress in a comedy category!

Jane Krakowski

,

Kristin Wiig

AND A

my Poehler

all received nominations! My heart stopped. I am so happy for all these leading ladies. Yes, leading ladies. They are leading ladies to me. Jane Krakowski in particular really stepped it up last season on

30Rock

, holding her own when sharing the screen with the real leading lady,

Tina Fey

. I'm rooting for her but would be happy if either of the

SNL

gals nabbed the award instead. (This was a long shot but I really think that

Jennifer Esposito

should have gotten a nom in this category for her work on

Samantha Who?

– she's so underrated.)



Big Love

nominated for Best Drama! This fantastic HBO series follows a family of polygamists as they try to lead "normal" lives in the real world. It's one of my favorite shows – the writing, the acting, everything about it is great. It's also never really received the more mainstream, pop culture appeal that other HBO shows like

True Blood

and

Entourage

have, which is almost as unfortunate as NONE of the three wives (

Jeanne Triplehorn

,

Chloe Sevigny

and

Ginnifer Goodwin

) getting nominated themselves.

Yay to

Jeremy Piven

NOT getting a nomination for

Entourage

! I think he's great as

Ari Gold

but come on, it's been forever. We get it. You're funny. Anyway you play every role like Ari Gold so are you even acting?

Piven being left out means that

HIMYM

's

Neil Patrick Harris

might FINALLY get his… wait for it…Emmy!
The NEGATIVE thoughts:
January Jones

SNUBBED for her incredible work on

Mad Men

. Yes,

Elisabeth Moss

was nominated for Best Lead Actress for the series – and yes, Elisabeth Moss is probably deserving of a nomination, too. But come on, Emmy voters! January Jones gave such a heart wrenching, CRAZY turn as Betty Draper last season. Not to mention the fact that she probably had double the amount of screen time that Elisabeth Moss got. If anything, Elisabeth should have received a Supporting nod. I love you, January Jones/Betty Draper.

Another snub:

Elizabeth Mitchell

gets no recognition for the late Juliet on

LOST

. Juliet was one of the most interesting characters the series has had – not to mention one of the best acted. RIP Juliet. And RIP any chance for Elizabeth to get an Emmy for LOST. Hopefully she'll be as wonderful on ABC's new re-make of the awesome 80's mini-series

V

(which I have on DVD if anyone wants to borrow.)

One more female snub:

Katherine Hiegl

. She was really annoying last year with her whole

"I didn't submit anything b/c I didn't think the work I did or the material I had merited an Emmy"

but this year – as insane as the whole seeing dead Denny thing was – she was brilliant. She was SLEEPING with dead Denny! And then when she realized she had cancer – got she was good. She deserved this nod over

Sandra Oh

, Right?

I have lots more opinions but I think this will suffice for now. What do you think of the noms?


The 2009 Primetime Emmy Awards air on Sunday September 20th on CBS at 8pm. If you'd like to write about something just email me and you might be the next Summer Friday blogger!