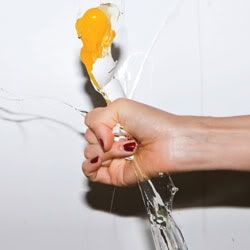 Although this album came out on May 31, 2009 I feel the need to write a little something the Yeah Yeah Yeahs'

It's Blitz!

even months after its release. Been listening to it all week/weekend and it deserves a few words.

The Yeah Yeah Yeahs do not fall into my typical genre of music (at least the one most of the world knows about) but the song "Maps" from their album

Fever to Tell

is one of my top ten fave songs ever. I picked up

It's Blitz!

shortly after its release and constantly find myself listening to it over and over again. While the first two singles "Zero" and "Heads Will Roll" are totally fun dance jams it's the slow (and especially acoustic) tracks that get me.

The slower songs like "Hysteric," "Skeletons" and "Little Shadow" are just fantastic. Give them a listen when you need to mellow out, or when you're feeling a little down to totally depress yourself into a coma. The deluxe version of

It's Blitz!

features four acoustic versions of the album's songs, my personal favorite being "Soft Shock" which I could listen to on repeat all night.

If you need a good driving CD or something to listen to from start to finish then make sure you download

It's Blitz!

by the Yeah Yeah Yeahs.