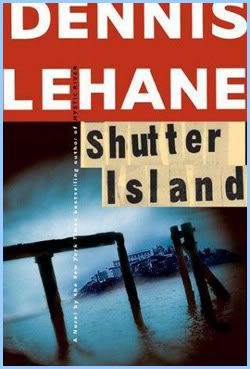 If you read this blog you know that I'm not the world's most experienced reader (although I have stepped up my game since my mom snuck a book under the Christmas tree two years ago.) This past Xmas I got a Nook eReader from Barnes & Noble and am determined to not let it become just another fad gadget that I stop using after a few months. As a challenge to myself I decided to start reading a book with a deadline to finish. I really wanted to see the film

Shutter Island

starring

Leonardo DiCaprio

, but decided to read the book by Dennis Lehane before seeing it in theaters.

I tend to enjoy books told in the first person that are a collection of short stories versus normal fiction, but I happily tore through

Shutter Island

in a matter of weeks (which is really fast for me, OK?) The book is suspenseful, emotional, scary and exhilarating.

Quick synopsis: In the 1954 US marshal Teddy Daniels is sent to a ominous island near Boston to investigate a breakout at a high-security insane asylum. How could a female patient vanish into thin air from the island? What are the mysterious clues that seem to be left in plain sight? Who is patient 67? Teddy and his partner quickly learn that everything on the island is not what it seems.

The writing is descriptive and you can almost feel the dank moisture of the grounds of Shutter Island. You can hear the drips of water, the scruffy ocean in the background and the haunting vocals of the people locked in the asylum. In a fitting way the writing is also maddening at times. There were several sections that I had to go back and reread to make sure that my mind wasn't playing tricks on me, which definitely helped me relate to the characters in the book.


If you're a fan of chilling stories and psychological play then you'll dig this book. Have you read

Shutter Island

? Have you seen the film? What did you think?