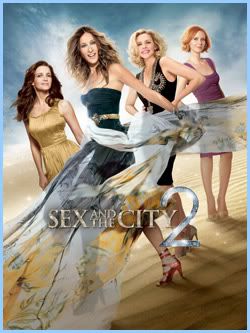 I saw

Sex and the City 2

on Tuesday night and I don't have that much to say about it so please allow me to give you the quick and dirty praises and criticisms.

As I said in my review of the first

Sex and the City

film I am not an avid

SATC

fan, nor am I completely familiar with the TV series' story lines, so I watch the movies with a different eye than those who followed the show through its run on HBO.

First off, If you have any interest in seeing

Sex and the City 2

you are going to like it. There are the fabulous women, the outrageous outfits and the extravagant settings. The ladies are still their funny, stylish and predictably-complex selves but face some new life challenges including infidelity, gender inequality, motherhood and

*gasp*

menopause!

Basic plot is simple: We see the girls two years after the last film, they're caught up and bogged down with their current lives and choose to accompany Samantha (

Kim Cattrall

) on a business trip to Abu Dhabi as a girls' getaway. Craziness ensues. Carrie (

Sarah Jessica Parker

) runs into old flame Aiden (

John Corbett

), Miranda (

Cynthia Nixon

) struggles to cut loose of her reserved ways, Charlotte (

Kristen Davis

) wrestles with the guilt of feeling like a bad mother and Samantha is still a ho.

Now on to the criticism.

Honestly, every time there was a big reveal and we saw the four women appear in another overly extravagant ensemble I just wanted to give them the finger. I mean, they are such assholes. I know the fashion is one of the biggest elements of the franchise, but some of the looks were just ridiculous. When Carrie showed up to a traditional Middle Eastern spice market wearing a snakeskin shrug and a purple tutu it made me want to leave her in the middle of the desert.

Speaking of the Middle East, I'm very surprised at the amount of fun that was poked at people of Arabic decent. While some of the comments were made with

SATC

's usually cheeky style, many of the jokes were a little too offensive for even my non-politically correct sense of humor. The ladies were in a foreign land where women are not treated as equal to men, and yes, I think they were attempting to make a point that the inequality in the Middle East is unfair, but the way they had the women, especially Samantha, insult the cultural beliefs of the country they were visiting was pretty crude. It didn't do much to improve the image of intolerant Americans abroad.

That being said, if you like

Sex and the City

you're going to like the movie. It has everything that fans have come to expect from the series and all of their favorite characters are back in their full glory.

Do you plan on seeing

Sex and the City 2

?