Break out the beach towels and your portable speakers! The latest version of The Ru-Mix is here for your summer getaway. Check it out

We Rule the World, XXXO

.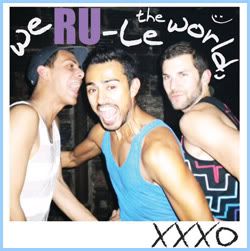 As the music goes "On and On," and as "Brave" a feat it may be, you'll never find yourself "Dancing on [Your] Own" while pumping this mix. As

Kelly Rowland

"commands you to dance," and

Alexis Jordan

spreads her "Happiness" hopefully you'll find yourself lost in "Sex Dreams and Denim Jeans" with those "California Gurls" but remember "All the Lovers" are only going to "Break Your Heart." That's what Summer romance is all about though, right?

Download the Ru-Mix here


If you're digging all of The Ru-Mixes so far keep checking the blog or join the Facebook group!