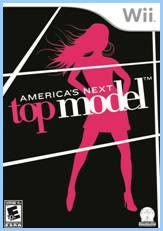 After 14 Cycles on the air

America's Next Top Model

has made its way into the world of video games. The game -- which is out for Nintendo Wii and DS -- takes players inside the model house for challenges and personal interaction. Some info on the game:

"To succeed, the player must convince a very critical jury at various events such as catwalk shows, photo shoots, etc… There are also interactive story elements, which depend on the relationships with the other contestants, boyfriends, admirers and jurors. Will you play the sweet heart and be everyone's best friend? Or will you claw your way to the top through cat fights and cunning? Choose the path to your destiny as

America's Next Top Model

."
Being the super fans that we are, Carolyn and I snagged a copy of the

America's Next Top Model

video game for Wii and this is what we thought...




So, it may not be the most exciting game around for late 20s bloggers, but for younger

ANTM

fans it's definitely something to have in your gaming arsenal.





*Full Disclosure: The

America's Next Top Model

video game was provided to me free of charge, but I wouldn't write about it if I didn't want to!