Last month I asked everyone's opinion on what color we should paint our kitchen and there was a great response! Most of you voted for a slate color and so that's what we did. Check it out...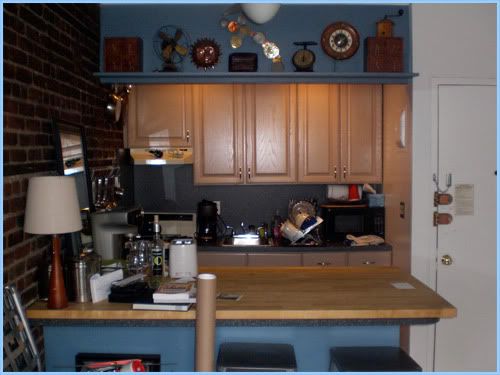 Our painted kitchen (please ignore the clutter)


The actual color is Benjamin Moore "Al Fresco"and is a little darker than the one we Photoshopped in, but it looks great. We painted the header wall and shelf, along with the front of the kitchen island. The color really pops from the wood and brick textures around the apartment, and it nicely showcases the found objects we have on display. We also picked up two Flint bar stools from CB2 for the island that look really nice against the blue.

Once we started painting we thought the color was so nice we decided to keep it going around the room into the living space.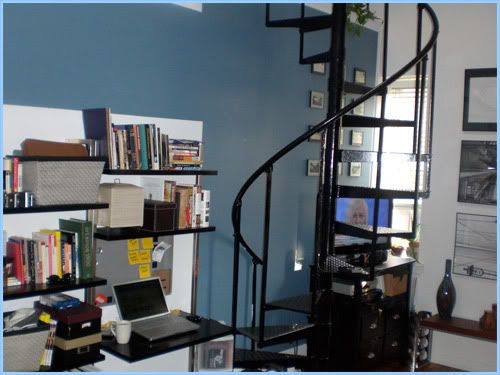 I have two Helix desk/shelf units from CB2, so in order to set the work space apart from the living area we taped them off with painter's tape and left the wall behind them white. It was a quick and easy way to add more interest to the room and to visually break up each space.

Also, you can't really tell from the photos, but we used painter's tape to make a 3-6" border around the tops and bottoms of the walls. This serves two purposes: The walls now look like we have extra moldings that we didn't have to build, and we didn't have to do

any

edging, because we just rolled right over the tape and peeled it off when the paint was dry!

So, what do you think of the paint? Let me know what you think!