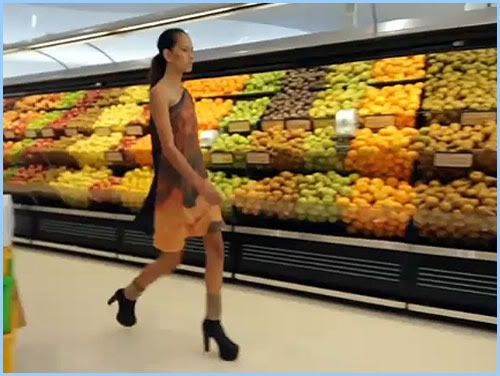 A designer's goal is often to bring fashion to the masses, so what better way to reach a big crowd that to parade your designs right through the middle of a crowded supermarket?
Check out some models strutting their stuff through the New World Supermarket in Aukland, New Zealand wearing clothes by design house
Stolen Girlfriends Club
.
Marc Moore
, design director of Stolen Girlfriends Club, had wanted to present the collection -- called 'Untitled' -- in a location that took fashion out of its usual context, saying, "We thought about presenting our new collection in a total random and public place, we wanted it to be like a 'fashion flash-mob. It's always a challenge to keep people on their toes in anticipation but I think that today's show really did surprise".

It was a grocery trip to New World three years ago that triggered the idea and presented Stolen Girlfriends Club the setting for their pop-up fashion show. "We noticed how the supermarket aisles served as a natural catwalk," says Moore. "So, we got thinking about how we could turn this idea into reality. We had wanted to do a collaborative project with Red Bull for a while and this seemed like the perfect fit."

I can imagine there were some pretty lofty price checks going on that day!
[Thanks, Carolyn!]