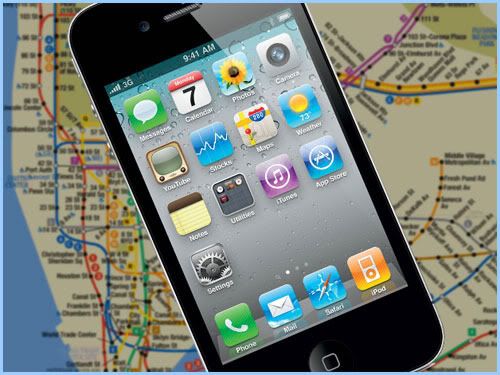 When I moved to New York City in 2005 the iPhone and its non-Apple equivalents didn't even exist. So, to get around the streets I relied on a pocket subway map and the kindness of strangers to get me from place to place. I had my fair share of transit blunders, like exiting a station and having no idea which way I was facing, going uptown instead of downtown, and accidentally boarding the express D train and ending up at 125th street... Not fun.

It seems like late summer is a time when many new faces make their way to The Big Apple, so to debunk that rumor that New Yorkers are rude (we're really just self-focused) I've polled my buddies and put together a list of some of the best and most convenient applications for navigating NYC.

Check them out after the jump!

iTrans -- This is the first application my friends insisted I download when I first got my iPhone. It's a little more expensive than other apps, but is totally worth it. Besides having a complete subway map, walking directions to and from stations and service advisories, iTrans downloads all of the up-to-date info while you're above ground so you have it all without needing WiFi while you're underground. My favorite feature is the mostly accurate "next train" schedule. It doesn't make the train arrive any sooner, but it does give me peace of mind to know when the next when is supposed to show up.





ExitStrategy - I didn't know about ExitStrategy until readers starting sharing it with me, but I am in love! One of the strangest things to me when I first moved to NYC was how people would walk to specific places on the subway platforms to wait for the train. I thought, "Why don't you just walk through the turn style and wait?" The reason is that savvy New Yorkers know that taking the extra time to board the train at the right place allows for a quick exit of the platform after reaching their destination. ExitStrategy will tell you the exact location on the train to help you make a speedy escape.





HopStop - One of the best apps (and sites) for getting around New York. HopStop is the Google Maps of the subway. You plug in where you're starting, where you're going and what time you want to go and HopStop lays it out for you, including any service changes that you may be unaware of. You can also say if you want to walk more, but not transfer, or go from subway to bus, or even see how long a taxi trip may take you.





Art by Subway NYC - Once the initial transit shock passes, you'll notice that the NYC subway stations actually have some beautiful art installations inside. Art by Subway NYC gives the details on the sculptures, paintings and mosaics that most commuters ignore on their way to work each day (like those little bronze worker people in the 14th street A/C/E stop!)





After a long day of bopping around the city you are definitely going to be hungry. So, here are a few of the must-have apps to help fill your belly without emptying your wallet.

Seamless Food Delivery - Seamless.com is a New York essential for ordering food online (and not having to talk to anyone!) and having it delivered right to your apartment. Their free app is great because you get the same amazing service on the go! Perfect for ensuring your Pad Thai arrives at the same time you do after a long day in the city.





OpenTable - Great site and app for making reservations at some of the best restaurants NYC has to offer. OpenTable not only conveniently lets you book a table, but also rewards you for doing it! For ever reservation you make you get 100 points (or 1,000 for special promotions!) that can be redeemed for gift certificates once you've racked up enough. Use the OpenTable app to book ahead, do what I do and book spontaneously right before you get to a place to make sure you get the points, even if you didn't plan on dining there in advance!





Scoutmob - One of my favorite apps. Scoutmob makes deals with NYC establishments for 50% off your bill. Yep, half off! The service is location based, so once you are at the restaurant you just check in, use the deal and boom! Savings.





There are literally hundreds of other apps out there to help you survive in New York City and I'm sure I missed some great ones. Which apps to you use to get around The Big Apple? Are there apps you love that people can use no matter where they live? I'd love to learn about them so leave a comment!