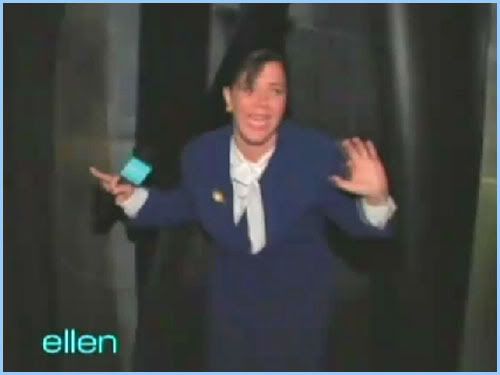 The Ellen Degeneres Show returns today for its ninth season with big celeb guests (like Ashton Kutcher) and Ellen's continuously positive sense of humor. While poking around the Web over the weekend I found a clip from Ellen that a reader of A Blog About Things posted and I seriously cried with laughter while watching.

Amy Rhodes is a writer on the show as well as Ellen's "roving reporter," covering topics ranging from the weather to a strange fungi growing on Ellen's "east porch." For one assignment Amy was asked to take viewers on a walk through a haunted house, which clearly was not her favorite beat to cover.

Watch as Amy screams, shrieks and calls people rude during her trip to the haunted house!




And it looks like haunted houses aren't the only thing to get a rise out of Amy. Watch as Ellen forces her to watch Scream 4 alone in a movie theater (with one uninvited guest):




You know what else Amy is also afraid of? Games! Check out her terrifying trip to the top of Ellen's famous "Know or Go" game. Even Justin Timberlake got in on the action.




Seriously, these make me cry with laughter.



The Ellen Degeneres Show

has its season nine premiere today. Check your local listings for times.