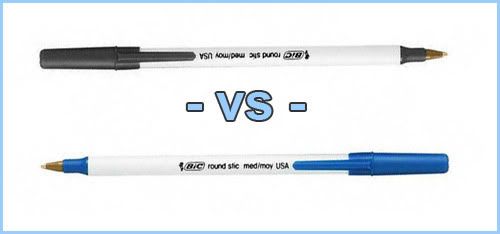 While sitting in a fairly boring meeting last week I was noticing what types of pens people in my office chose to use. Personally, I use exclusively black ball point pens. Specifically these ones from Staples. Never -- and I mean

never

-- will I use blue ink.

Not sure if I was a lone freak, I decided to poll my Twitter and Facebook friends to see if they too had particular pen habits. These are my very unscientific findings:



Surprisingly, the majority (44%) of people said they use blue ink. I'm not sure what is wrong with them, but I will have to do another study to find a link between blue ink and mental illness. 38% of people (good, smart people) said they use black ink. 14% of responders said they have no preference of pen color whatsoever which is very troubling... but even more unsettling was the 4% of people who said they use red ink.

RED!

Sadists, obviously.

So, which part of the population do you side with? Mentally ill, apathetic, sadistic or successful/smart/awesome? Leave a comment with your pen preference.