Despite the fact that the universe at large might have reached its saturation point, Bravo has revealed the cast of the latest installment of the

Housewives

franchise. And although they are just up the road from Orange County,

The Real Housewives of Beverly Hills

are hoping to set themselves apart.

Meet the six women who will be joining the Housewives club starting Thursday October 14 at 10pm on Bravo.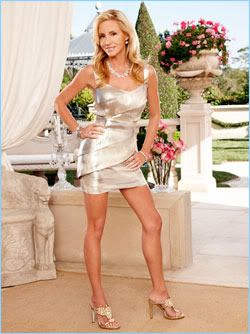 Camille Grammer



Camille is a multitalented model, actress, dancer, and advocate, who calls Beverly Hills her home. Grammer began her career as a dancer on

Club MTV

. She was married to sitcom star,

Kelsey Grammer

, for 13 years. Together, they have a daughter, Mason, and a son, Jude. Camille and Kelsey own a production company, Grammnet Inc., which produces the shows Medium, Girlfriends and The Game, and I Love Sports. She has also appeared as a dancer in several music videos.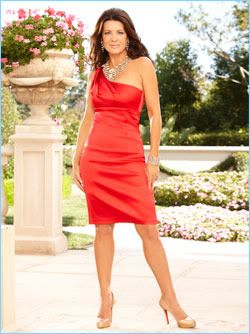 Lisa Vanderpump



This charming and witty Brit has only been in the US for five years but has already made her mark in Beverly Hills. Lisa Vanderpump was born and raised in London but lived in Monte Carlo and the South of France before moving to California. Married to her husband Ken Todd for almost twenty-nine years, the couple has two children Pandora (24) and Max (18), plus their four dogs whom they also consider their babies. She currently owns two restaurants that she created, Villa Blanca a celebrity hangout, which has been described as "the sexiest restaurant " in Beverly Hills and Sur in West Hollywood.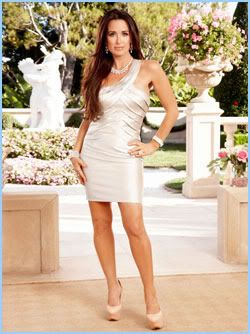 Kyle Richards



This sassy California native was born in Hollywood, California into an acting family. Kyle acted consistently, spending her entire childhood on film and television sets and continues to work into her adult life. She landed her first role at the age four in Disney's Escape to Witch Mountain, where she played the younger version of her sister, child actress and fellow Housewife Kim Richards. Her other sister is

Kathy Hilton

, mother to

Nicky

and

Paris Hilton

.



Taylor Armstrong



Taylor Armstrong is a stunning Oklahoman native who moved to Beverly Hills seven years ago. She is married to venture capitalist Russell Armstrong and together, they have one four-year-old daughter named Kennedy. This Midwestern girl knows how powerful men in Beverly Hills work, so she makes sure that she is always looking her best because she knows that something younger and prettier can always come along and catch her husbands' eye.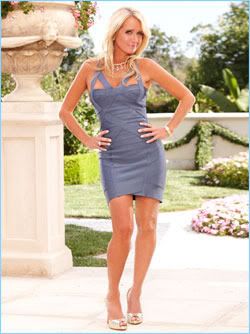 Kim Richards



Kim Richards is a former child actress who is best known as the Disney Girl. She signed with Disney Studios when she was only 10 and by the time she was a teenager she starred in such films as Nanny and The Professor, Escape To Witch Mountain, and No Deposit, No Return just to name a few. After starring in the feature film Tuff Turf Kim decided to go into early retirement and devote her time to raising a family. Kim has four children Brooke (24), Whitney (20), Chad (19), and Kimberly (15).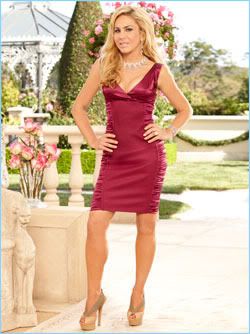 Adrienne Maloof



A savvy "no-nonsense" businesswoman, Adrienne Maloof is an Albuquerque, New Mexico native who moved to the palm tree-lined streets of Beverly Hills 15 years ago. Adrienne, her mother and four brothers comprise the Maloof Family dynasty whose multi-faceted sports and entertainment enterprise includes the Sacramento Kings, Palms Casino Resort in Las Vegas, Sweeping Palms Entertainment (film, television & music) and Maloof Money Cup.

The Real Housewives of Beverly Hills

premieres Thursday, October 14 at 10pm on Bravo. What do you think of the latest bunch of ladies? Leave a comment!