Internet stars Sophia Grace and Rosie -- who got famous for their Nicki Minaj "Super Bass" clip -- are getting more time in the spotlight.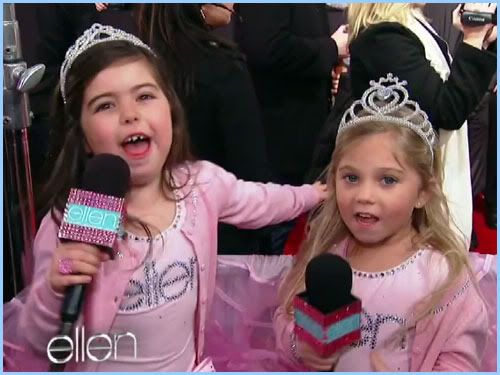 The dynamic duo served as red carpet correspondents for The Ellen DeGeneres Show for last Sunday's American Music Awards, and interviewed stars like Taio Cruz, Julie Bowen, Lady Antebellum and Lil John (whom they assumed was Lil Wayne's brother).

The best was when Katy Perry pushed her way through the crowd to get to them. The girls freaked out (poor audio tech!) and even sang a clip of "Firework" for Katy. Too cute! Check it out:




Although Sophia Grace is obviously the Penn to Rosie's Teller in the pair, I truly enjoy her straight delivery. When Sophia says, "WE'RE SO EXCITED, AREN'T WE, ROSIE?!" and Rosie's reply is, "Um... ya." and it kills me.

When I grow up I'm going to force my kids to be just like this.